Cat with the Hat (rare)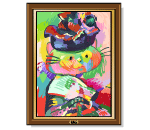 This is a rare piece from the Pet Masterpiece Art Collection. Henric Petisse painted his beloved wife, Catmelie. This piece was exhibited in the prestigious Salon de Pet in 1905.
Only 100 released and will NEVER be restocked.
This is a Masterpiece, so you will receive the Masterpiece Collector Badge if you purchase it.