Petche Receiving Cupids Kiss (rare)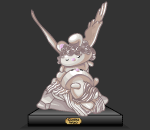 You will earn the Masterpiece Badge if you are the owner.
This is a rare piece from the Pet Masterpiece Art Collection. Petonio Canova was commissioned to sculpt Petche Receiving Cupid's Kiss in 1787. It represents Cupid at the height of love and tenderness, while awakening the lifeless Petche with a Kiss. A masterpiece of its period. Only 150 were created.